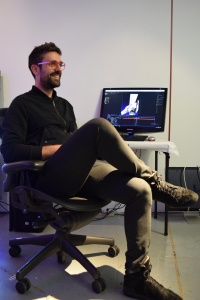 Mattia Casalegno is the currrent art and research fellow of Chronus Art Center. His project The Aerobanquets RMX investigates new forms of augmented virtuality media. Inspired by the multi-sensorial dinners described in the 1932's The Futurist Cookbook by Italian artist Filippo Marinetti, the project explores novel ways in which food consumption can be approached through the technological transformations of modernity.
In addition to the strong conceptual quality and artistic potential that Casalegno's proposal demonstrates, the project also catalyzes the development of opensource research tools for participatory AR, VR, and interactive audiovisual content generation, as well as the integration of this with realtime motion capture systems.
More about The Aerobanquets RMX : http://www.chronusartcenter.org/en/cacdinner-mattia-casalegno-theaerobanquetsrmx/
Artist's Bio
Mattia Casalegno is an interdisciplinary artist, live-media performer and installation artist working in a broad range of media. His multidisciplinary work is influenced by both post-conceptualism and digital art and has been defined relational, immersive, and participatory. His practice explores the effects new media have on our societies, investigating the relationships between technology, the objects we create, our subjectivities, and the modes in which these relations unfold into each other.
He exhibited internationally in various festivals and museums, such as Mutek Festival in Canada, Kuandu Museum of Fine Arts in Taiwan, MADRE and MACRO in Italy, Rome Fashion Week 2010, Cimatics festival and Nuit Blanche in Belgium, Optronica in UK, Le Cube - Contemporay Art Museum in France, OFFF in Spain, AVIT in Germany, Wright Gallery, AxS Festival, YAA Museum and LACMA in US.
His work is featured internationally in publications and catalogues such as "A Touch of Code", Gestalten Books; "New Media Design", Sometti; and "Deleuze and Audiovisual Art", Manchester Metropolitan University, and on media outlets as the Wall Street Journal, Art Tribune, the Creators Projects, Creative Applications, Hyperallergic, Digicult, Art F City, We Make Money not Art, e-artnow.
Nominated to the New Technological Art Awards in 2014 and artist residence at Eyebeam in 2015. He received various grants and fellowships from, among others the CCI - Center for Cultural Innovation, GAI - Young Italian Artists Network, NASCA/NYFA and the Elizabeth Foundation for the Arts. He is adjunct faculty at the department of Digital Arts, Pratt Institute, and the Computation, Technology and Culture department at the Rhode Island School of Design.