<cac_lab> is a place dedicated to the inquiry of present-day matters regarding art, design, science, technology and their impact on global contemporary culture and society. Through artistic practice, technological tools and research methods, we enable creative processes that result in works of art of high production and academic value. <cac_lab> is a space of flux which encourages artistic practice as a generator of new knowledge, a territory where art and science converge into a contemporary and experimental field of academic research; free from mainstream cultural thought, technological stress and economical diversions.
Research/creation (R/C) is a field of knowledge-based-production emerging from the increasing number of artists-researchers pursuing investigations in creative fields within academic settings. R/C integrates art practice with scientific methodologies in experiments leading to the conception and production of artworks. It disrupts the traditional artistic mindset based on individual and emotional expressions while emphasizing on research and inquiry (in both cultural and technological terms) as the basis and prerequisite for contemporary artistic practice. R/C encourages trans-disciplinary works, collaborations, and collective thinking, enriching the creative process in pursuit of generating new academic knowledge. CAC R/C concentrates on the following five areas:
Embedded Networks: Use of diverse types of digital networking and connectivity in unison with physical computing (sensors, wearables, trackers, biofeedback, etc.) to produce augmented, immersive, and telematic experiences, performances, games, interactive and connected artefacts, and responsive environments
Data Inquiries: Revealing back ends and data management infrastructures (servers, APIs, and networked frameworks) and visual front ends (user interfaces) to make complex technologies and systems more tangible and transparent, develop experimental applications, generative and net art, interactive installations
Augmented Narratives: Wanderings into augmented and virtual reality to develop non-linear, experimental narratives of new media; autonomous audiovisual systems that make use of participatory dynamics to further blur the distinction between physical and virtual spaces and experiences
Existential Technologies: This line of research explores the use of wearable technologies, robotics, interactive media, and physical computing, to examine fundamental ontological questions regarding the nature of reality and human perception; synesthesia, sensory substitution, sensory augmentation, critically reflect upon notions of self-optimisation and quantification of self
It From Bit and Back: Aesthetic objects that challenge the definitions of simulation and representation through hybrids bridging digital and physical forms. The transmutation of bits into atoms and vice-versa becomes the transversal manifestation of new forms of art in the field of mixed and mediated reality through physical computing, virtual and augmented frameworks.
Current Head of Research/Creation at Chronus Art Center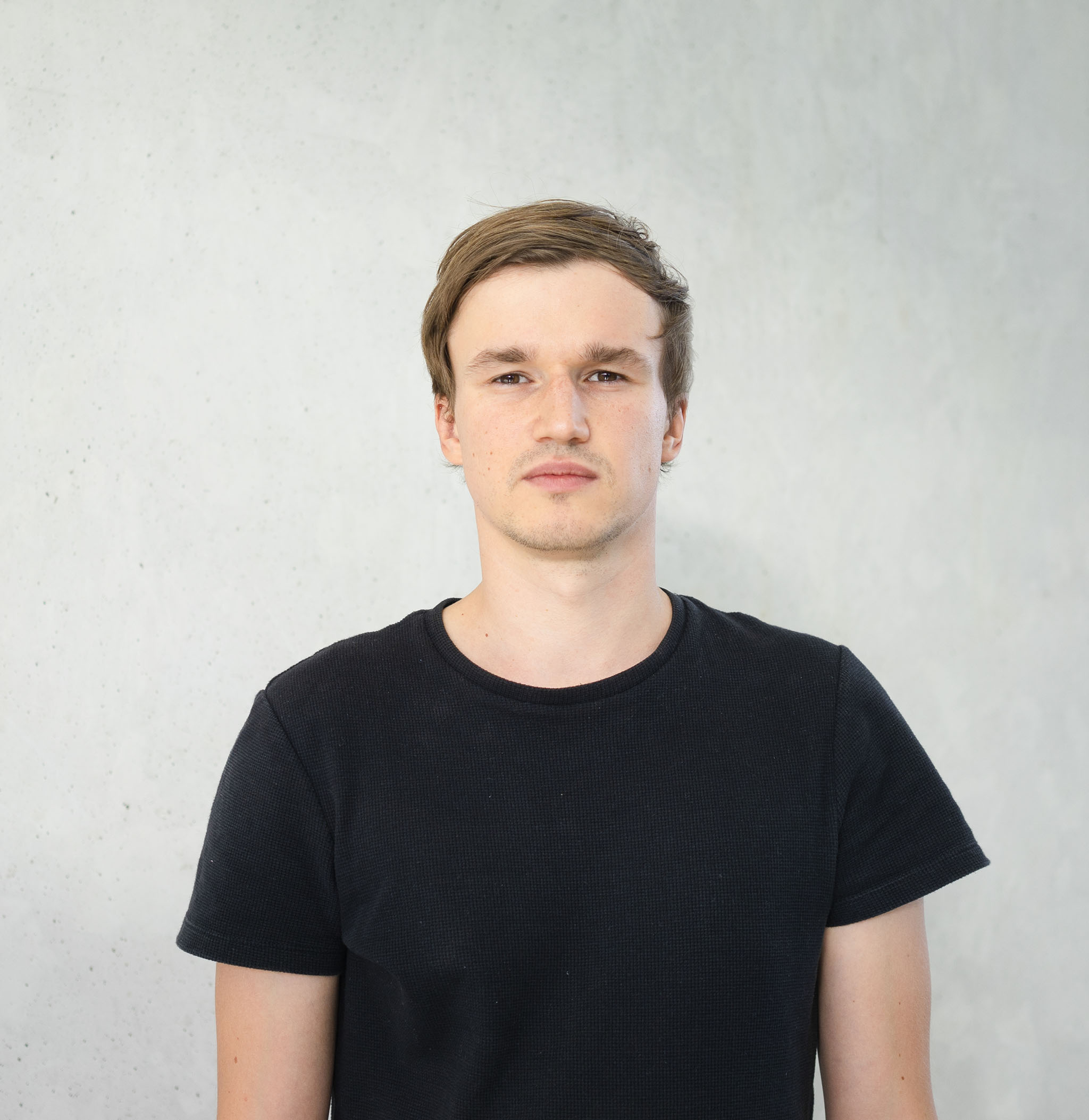 Vytas Jankauskas is an artist, designer and researcher interested in how emerging technologies inhabit and shape our domestic mundane. His practice encompasses the Internet of Things, data ownership, digital citizenship, social media and their influence on our everyday.
He is the co-founder of a project-based critical design practice VJF with Jon Flint. He is part of the Cached Collective that seeks to raise awareness around data and privacy via tangible and immersive experiences. Vytautas is a permanent resident at the Pervasive Media Studio, Bristol, UK, since 2018.
Vytas holds a BA in Media Art from the Brera Academy of Fine Arts andd MA in Media Design from HEAD — Genève.
Vytas' work has been exhibited at the V&A (Digital Design Weekend, 'The Future Starts Here'), CCCB ('After the End of the World'), Chroniques Biennale, Salone Internazionale del Mobile ('Animal Party'), ISEA ('Lux Aeterna'), and Cité du Design St.Etienne ('Culture Interface'), amongst others. He has been awarded the Core77 Speculative Concepts Runner-Up prize in 2016 for his piece 'How to Build a Water Filter: a Youtube Tutorial from the Future'.
Between 2015 and 2018 Vytautas was a a visual designer and researcher at the London-based critically-acclaimed futures design studio Superflux. As part of the practice, he has given talks and represented the company in multiple shows.
Previous Head of Research (2015-2019)
fito_segrera is an artist, technologist and Head of Research/Creation at Chronus Art Center, Shanghai. He studied fine arts and Audiovisual / Multimedia production at Jorge Tadeo Lozano University of Bogotá, Colombia and completed an MFA in Design and Technology with honors at Parsons, The New School, New York, while being a Fulbright Scholar from 2013 until 2015. His current research and creative practice appropriates elements from digital philosophy, artificial intelligence, monism and modern physics while using physical computing, software programming and information / telecommunication technologies to inquiry in fundamental ontological questions regarding the nature of reality and the physicality of the universe.
Some of his most recent shows include: I am here to lear: On Machinic Interpretations of the World, Frankfurter Kunstverein, Frankfurt, Germany, 2018, UNREAL: The Algorithmic Present, House of Electronic Arts (HEK), Basel, Switzerland, 2017 & Chronus Art Center, Shanghai, 2017, VARIATIONS, Paris, France, 2016, PLUNC Festival Lisbon, Portugal, 2016, Migrating Fronteers, Chronus Art Center, Shanghai, China, 2016/2015, Shanghai Art and Design Fair, West Bund Art Center, Shanghai, China, 2016, SIGGRAPH, Vancouver, Canada, 2014, Collision 20 & 21, Boston Ciberarts Gallery, Boston, U.S.A, 2014, Huston International Performance Biennale, Huston, U.S.A, 2014, SXSW, Austin, U.S.A, 2014, Emoji, EYEBEAM, New York, U.S.A, 2013, Dorkbot, New York, U.S.A, 2013, Harvestworks, New York, U.S.A, 2013.