UNKNOWN
Yin Xiuzhen
A&T@ 3rd Edition 2018–2020
With the monumental installation UNKNOWN, which spans across three floors of the ZHI ART MUSEUM, artist YIN Xiuzhen has created an awestriking work that transforms the exigencies of world affairs and flux of emotions into constellations of heavenly bodies, in which fleeting human presences catalyze and transpire a universe of ephemerality and uncertainty.
Six display screens constantly feed news headlines from global hot spots, out of which an AI system generates endless nebula formations which are shown on the adjacent mammoth Starmap, a four-meter in diameter custom-made circular LED screen, which soars into the clearing that crosses three floors of the museum. Visitors' facial expressions captured while reading news, again trigger a cluster of celestial objects to appear. The object, an aggregate of some of YIN's previous work interpreted by an AI algorithm, displays distinctive motion behaviours fed by visitors' emotional data. Meditative 'om' chants as well as excerpts of news of recent world events: COVID-19, Black Lives Matter, global food shortages, etc., fusing with sounds from deep space and sounds of emotions, compound into a murmuring soundscape, often beyond recognition.
Ascending to the upper level, visitors encounter an expansive space embraced by undulating hills and rivers seen through surround glass walls. Over the course of the exhibition, numerous 3D printed celestial objects will "float" atop of transparent plinths one by one. Generated from the collective data aggregated every day, the objects are the assemblages of human emotions solidified into cosmic existence, tangibles transformed from the virtual.
Thus, YIN's artistic sensibilities, typically characterized by the intimate human touch in her work, her solicitude for tradition and community, extend into a new horizon of stellar grandeur, cohabited by machine intelligence and human emotions, beckoning for a new humanism of cosmic dimension that is at once immense and minute, celestially untouchable and emotively present. Earth and heaven coming in equally unstable media, forever changing and forever inscribing in reciprocity.
— ZHANG Ga
The News
The six displays situated at the bottom level of the museum show up-to-date international and Chinese news headlines. The news is meant to attract visitor's attention, just like it would in our daily lives through personal devices and media. Daily news and how we consume them, constitute our individual and collective perception towards reality, or in the context of UNKNOWN, a universe.
A type of machine learning algorithm known as Generative Adversarial Network, previously trained on hundreds of images and their arbitrary descriptive captions, this time reversely converts news texts into abstract visuals. Visitors might find certain headlines intriguing and others irrelevant; an algorithm knows no such notion as meaning. Significance of the shown content is therefore quantified based on human attention and the emotions expressed.
Therefore, another algorithm trained on a variety of faces, captures seven conventional facial emotions: indifference, anger, happiness, surprise, disgust, sadness, and fear.The visitor's average emotional feedback is revealed at the end of each news headline cycle. UNKNOWN documents visitors' emotions in the form of three-dimensional celestial bodies bearing unique properties. The base shape for these objects derives from a digitalised sculpture from Yin Xiuzhen's previous work. An AI image created from a particular news headline becomes the surface texture of the object, whereas other physical and behavioral features are defined by probabilistic values of registered emotions.
A sound annotation can be heard at the end of the interaction confirming that visitor's attention has been successfully encapsulated in a celestial object. The tonality and nature of the sound abstractly reflects the type of dominant emotion calculated by the system. In our everyday lives, many complex interactions with technology are subtle, obscure, taking place in the background; their impact is felt over time, as a cumulus. Similarly, UNKNOWN generally avoids direct, immediate and explicit feedback with the visitor. Instead, the impact of human presence becomes an echo, a long-term imprint on the final outcome.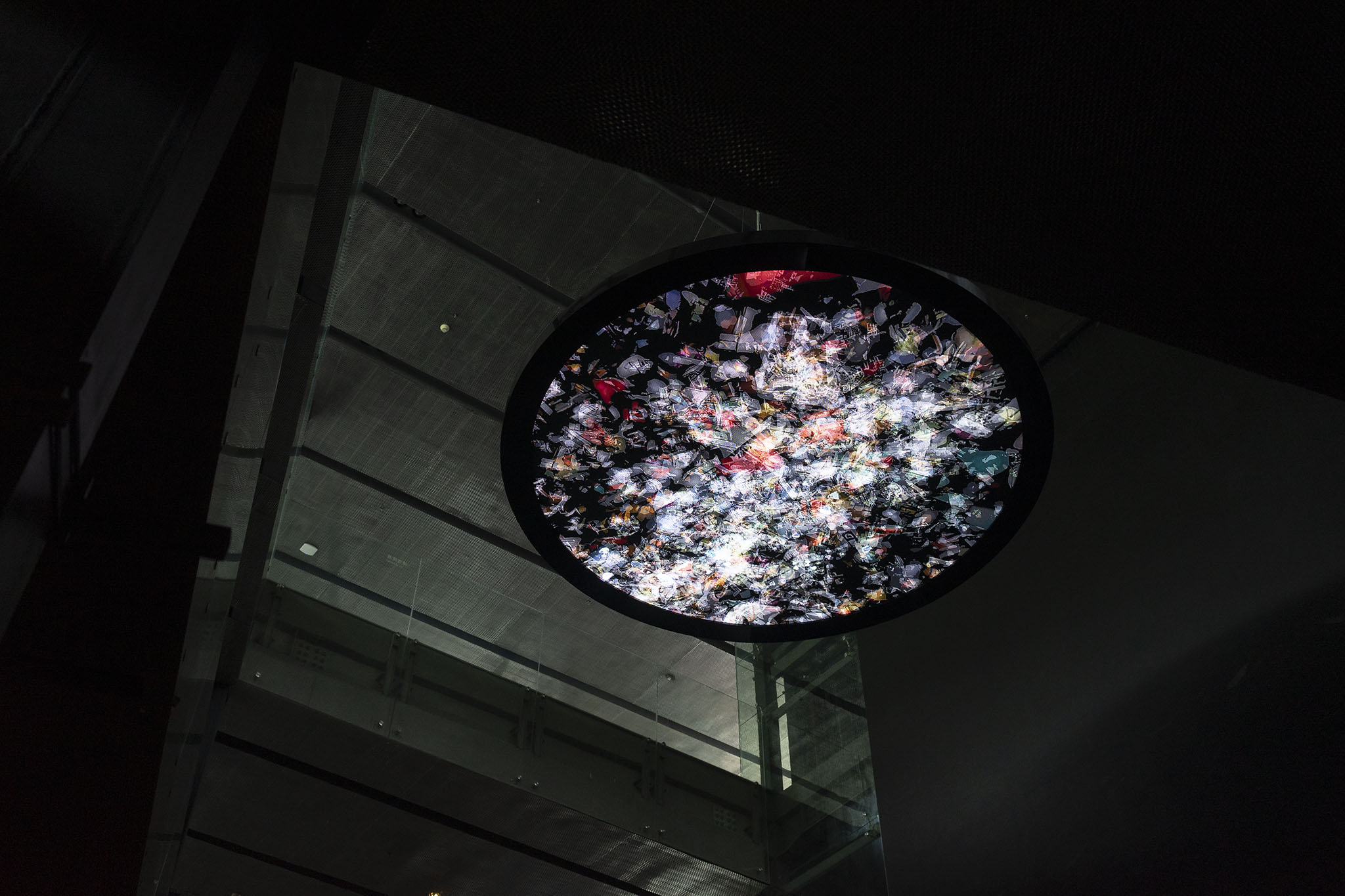 The Universe
Each displayed news headline—provided no emotions are registered—in turn becomes a nebula that takes the algorithmically generated image as its texture. The birth of nebulae is accompanied by ambient voices, excerpts from news interviews in which everyday people of different cultures express their opinions about the world's actualities. The voices are altered beyond recognition, nearly singing, reverberating from the deep space.
Nebulae, along with the objects created through visitors' emotions, become part of a star map cutting through the gallery opening of the museum. An ambient soundscape accompanies the stars, in which the background atmosphere is created by fusing sounds of deep space along with field recordings of data center server rooms, places in which today's digital information is stored and distributed. The sound annotations caused when new objects or nebulae appear are distributed in the space three-dimensionally and correspond to the objects' positioning in the star map.
In the morning while the universe is young, one might be able to spot the object carrying their emotions, based on its description previously seen on a news display. Later—as thousands of objects and nebulae inhabit the ever expanding universe—UNKNOWN becomes a collective assemblage; individual pieces submerge in the vastness of space, a visual and algorithmic capacity beyond human reach. In this way, new, distinct universes are built everyday, datasets referencing today's news and curiously collecting our emotions as we read them.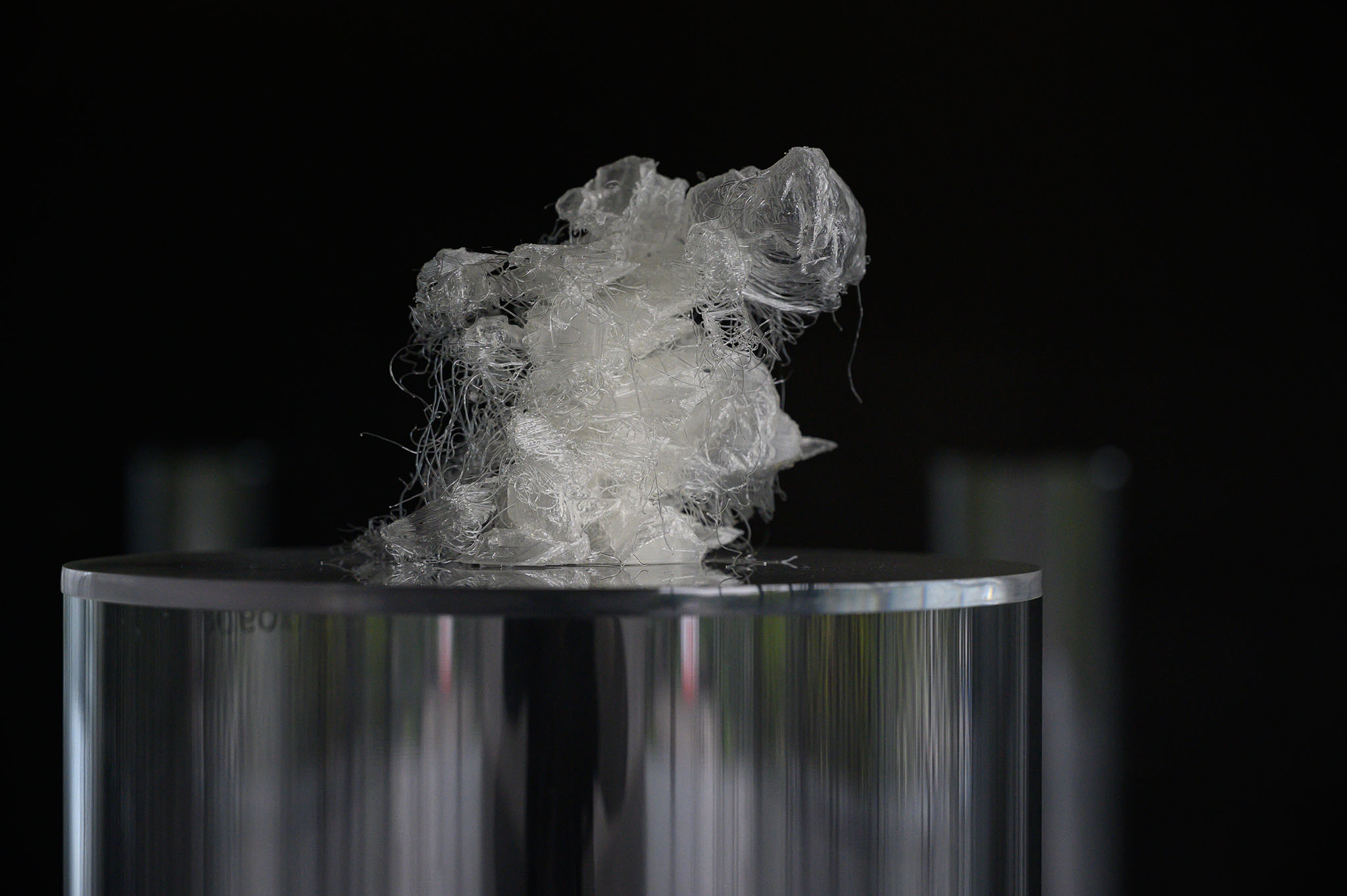 The Hard Copies
At the end of each day, a universe is synthesised and stored in the system's memory. The following morning as fresh headlines are written and a novel star map takes place, the algorithm attempts to cast a 3d-printed hard copy of the previous day's creation. An entire universe is shrunk, its essential parts isolated, optimised. Nonetheless, UNKNOWN is prone to error. Despite the treatment, it is impossible for a machine to output an immense universe model with thousands of objects into a miniature.
Today, as you wander through UNKNOWN, you may observe the archive of imperfect universes generated over time. As you proceed upstairs appreciating the sculptures, the sound score becomes more distant, but echoing reflections of new celestial bodies coming to life gently flood the top floor of the museum. These sculptures are poetic souvenirs of things society cared about as recently as yesterday. In the same way, your emotions will be observed in the monuments of stars by audiences to come.
Materials: Custom round 4m diameter LED display, 3D printer, 6 screens, 8 computers, 10 speakers, audio interface, router, server, cables, custom software (openFrameworks, Python, Unity3D, curaEngine), PLA filament, glass, acrylic supports
UNKNOWN is the third iteration of the A&T@ Program initiated at Chronus Art Center, and another notable outcome of continued collaborations between ZHI Art Museum and Chronus Art Center.

Concept: YIN Xiuzhen
Produced by Chronus Art Center
CAC Team:
Project Leadership: BI Xin, CAO Daxu, Vytas Jankauskas
Technology Lead: Vytas Jankauskas
Emotion recognition, star map to 3D sculpture processing, sound: Vytas Jankauskas
News screen displays, news API intergration, and general interfaces: Fito Segrera Star map graphics and processing: Miller Kilstner
Production Manager: CAO Daxu
Production Assistant: YAO Jiawen
Documentary Direction and Production: CAO Daxu
Editorial and Translation: CAO Jiamin
ZHI Team:
Director: Valerie Wang, Conghui
Executive Curator: YU Haining
Operation Manager: SUN Rulan
Administration Executive: MAO Li
Visual Designer: LUO Shan
Operation Assistant: HU Jiahui
Curatorial Assistant: HAN Lu
Intern: QU Mingxiao
Intern: ZENG Peiyuan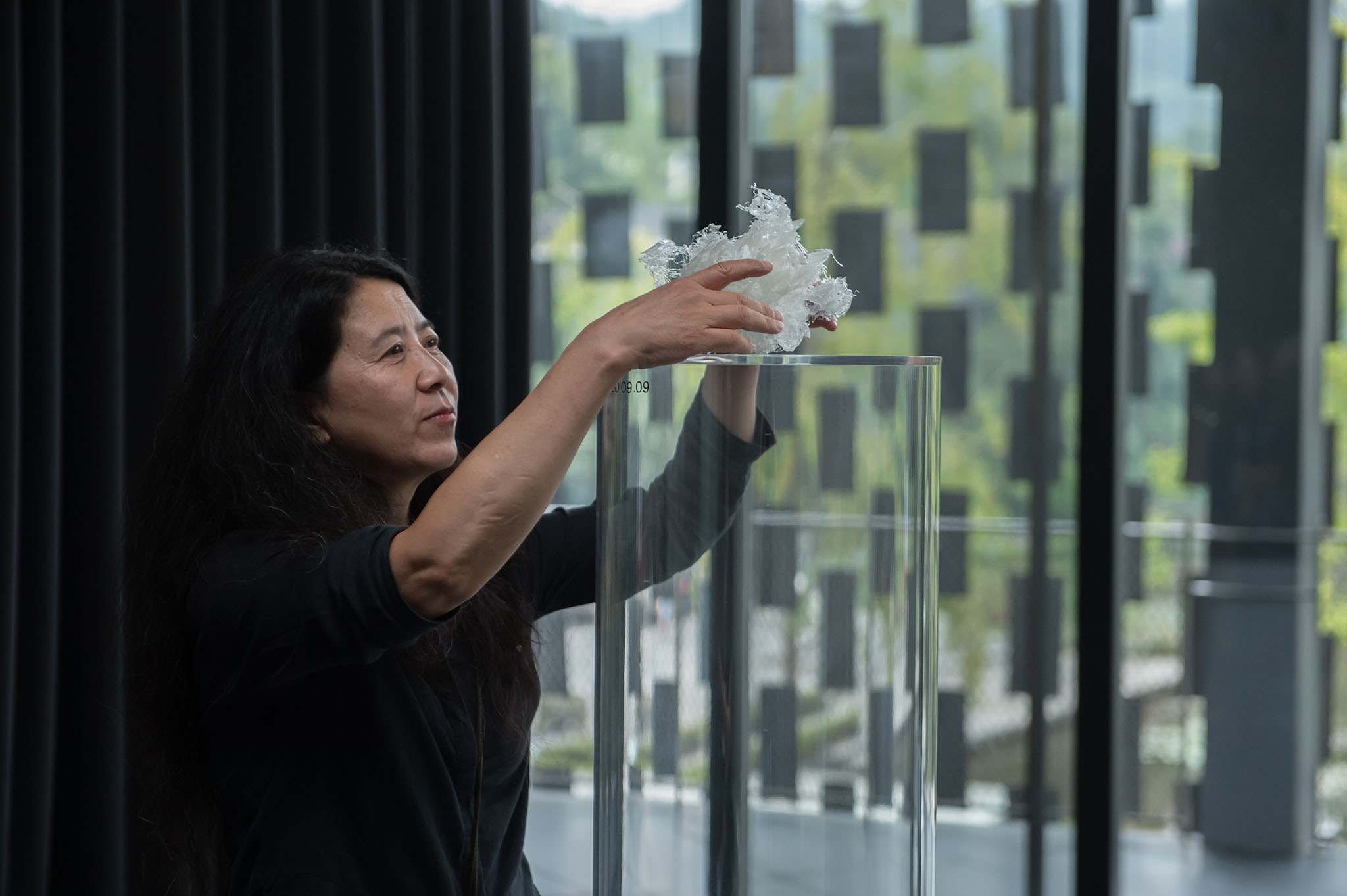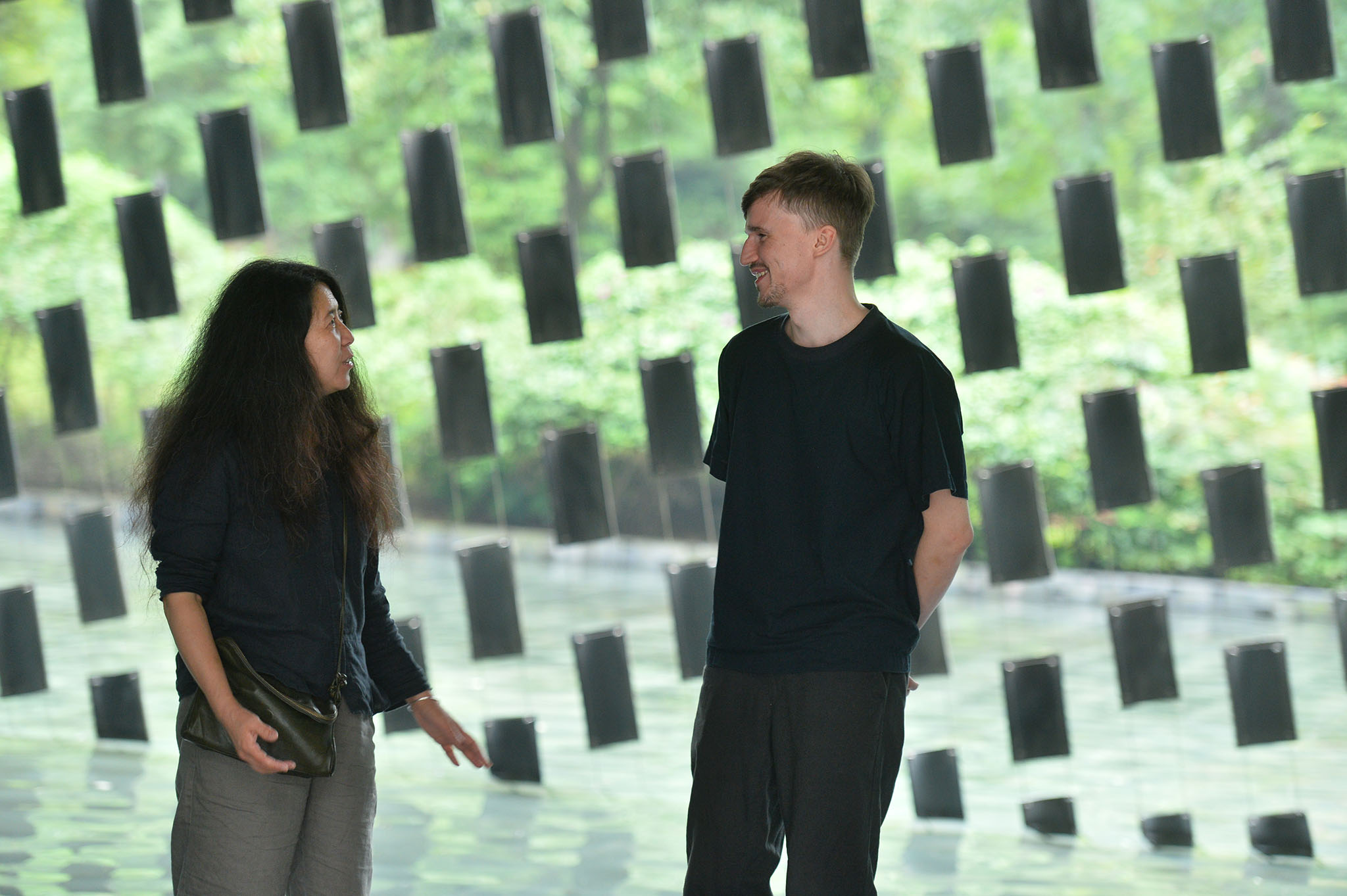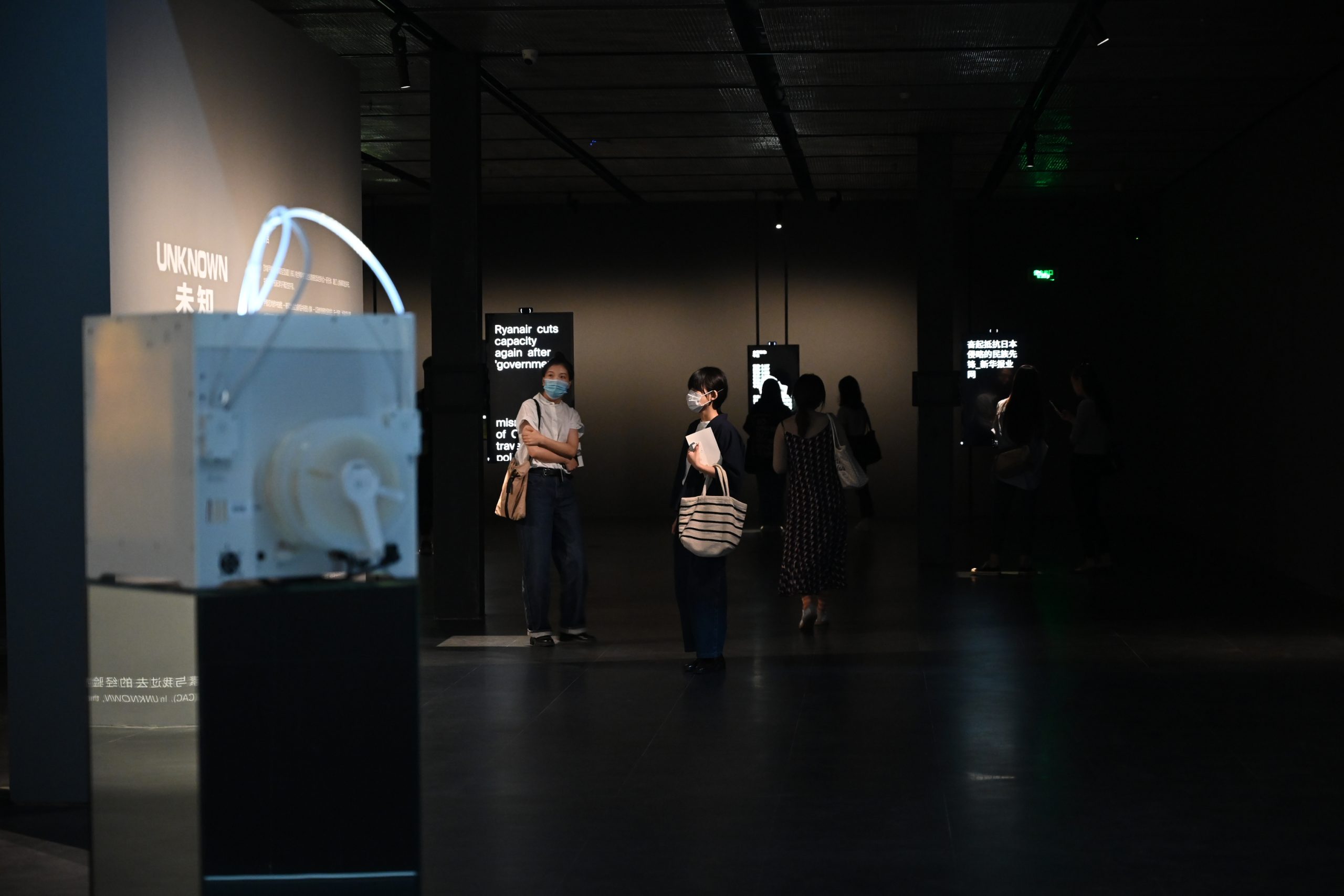 Resulting Exhibitions
UNKNOWN
19.09.2020—unknown
ZHI Art Museum (Chengdu, China)
Born Beijing, China 1963
Lives and works in Beijing, China
Yin Xiuzhen's practice is concerned with promoting conversations about society, particularly in her native China. Influenced by the '85 New Wave Movement that swept through artistic circles in China during the mid to late 1980s, she abandoned traditional oil painting after her graduation from Capital Normal University, Beijing in 1989 and began investigating the artistic potential of various installation media. Yin Xiuzhen is known for using second-hand or recycled domestic objects and creating sculptural forms that engage with communal memory, the fragility of the human environment, rapid urbanisation, environmental decline and globalisation. Through her interaction with these 'abandoned' or 'scavenged' materials, Yin Xiuzhen's work also brings into focus questions of personal and cultural identity.
Recent exhibitions include: Yin Xiuzhen, PACE, Hong Kong (2016); Slow Release, Commission for Garage Atrium Series, Garage Museum of Contemporary Art, Moscow (2016); That Has Been, and May Be Again, Para Sit Hong Kong (2016); Not Early, Not Late, PACE, Beijing (2015); GLASSTRESS 2015, 56th Venice Biennale, Palazzo Franchetti, Venice, Italy (2015); China 8 – Contemporary Art from China, Rhine, Germany (2015); OpenART, Orebro, Sweden (2015); The System of Objects, Minsheng Art Museum, Shanghai (2015); China's Utopia Revisited: The Elephant, Palais de Beaux-arts, Brussels (2015); Art Basel, Anna Schwartz Gallery, Hong Kong (2015); Dreamlands, Centre Pompidou, Paris (2010); and Project 92, The Museum of Modern Art, New York (2012).